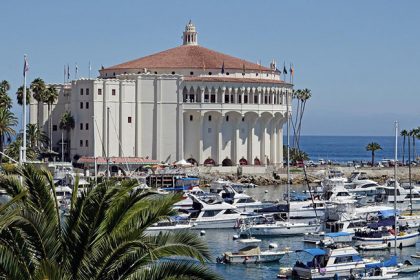 File Keepers is proud to provide Shredding, Document Storage, Document Scanning, Inbound Mail Processing, and Electronic Content Management [ECM] services throughout Los Angeles County, including to Avalon. This makes us a convenient source for all of your Digital Transformation service needs. Our extensive fleet of trucks is ready to pick up your shredding – we can even do onsite shredding, and or we can bring back your records, documents, CDs, hard drives, and x-rays for secure destruction in our certified facilities. We can even provide Certificates of Destruction or provide witnessed destruction. All shredded paper documents are processed into post-consumer fiber to maximize our environmental impact. Our offsite document storage capabilities are second to none. You can archive records, request file retrieval, and we even have climate-controlled storage areas to help you preserve vital records. We can also scan selected documents on demand, or perform high volume document imaging service through our state-of-the-art scanning bureau to convert entire cabinets and storage rooms of documents into searchable electronic images. We can scan any documents, from books and magazines, to large-format blueprints and maps, all the way down to century-old onionskin archives. Our ECM department uses Laserfiche software to create a secure repository for all of your organization's information. We can create e-forms and automated workflows to help you go paperless while we automatically name and organize your folder structure and build granular access and security levels for all your users. Finally, we can handle all of your inbound mail processing needs by creating a Digital Mailroom – we can receive, sort, scan, and securely distribute your mail so that you get all of your critical information in a timely fashion, even if your employees are working remotely.
As the southernmost city in Los Angeles County, Avalon is the only incorporated city on Santa Catalina Island, in the California Channel Islands. There are a lot of tourism-oriented businesses along the waterfront in the resort city. On the valley floor, the older areas of the town are characterized by small houses and buildings with two and three stories in various traditional styles of architecture.
William Wrigley Jr. gained control of Avalon in 1919. He oversaw much of Avalon's development, including the construction of the Catalina Casino. Several developers attempted to develop Avalon into a destination community from the late 19th century to the early 20th century, but all failed before Wrigley went bankrupt.
At the 2010 census, there were 3,728 people living in the city. About one million people visit Avalon every year, and cruise ships visit it regularly. The Tongva inhabited the island prior to European colonization.
Avalon Bay is the focal point of the city's activities, with the harbor and beaches denoting the town's character. A breakwater and main dock for cross-channel passenger boats, Cabrillo Mole is located at the south end of the harbor. Crescent Street, which runs just behind the three main beaches of Avalon Bay, is home to many businesses dedicated to serving visitors. There are decorative pavers and fountains all along the walkway, as well as palm trees and a serpentine seawall. Philip K. Wrigley brought about many of these design features in 1934 when he redesigned Avalon. The green Pleasure Pier stretches out into the harbor. Catalina Casino occupies most of the north end of the harbor. As Avalon's most distinctive landmark, the Casino was constructed in a style that is a cross between art deco and Mediterranean revival.
Located just north of the Santa Catalina Island Company's Casino, Descanso Beach is a private beach, entertainment and meeting venue. Hamilton Cove condominiums, a gated community with mostly second homes, are in the far northern part of town. The Lovers Cove dive park is a marine preserve popular with snorkelers as well as glass-bottom boat tours. Avalon's power comes from Pebbly Beach Generating Station, an industrial zone that is home to the Pebbly Beach Seaplane Base & Heliport and Pebbly Beach Generating Station.
There are fewer residential units on the beachfront of Avalon, where most of the housing is found in the flat lands further back in the canyon or on the hills on either side of the valley. In addition to City Hall, the fire station, Catalina Island Medical Center, and Avalon Schools, many important municipal amenities are in the canyon. A former summer cottage of William Wrigley Jr is now a hotel called Mount Ada. There are no bay views from the Wrigley Memorial and Botanical Gardens since they are at the farthest end of town. From 1927 through 1937, Catalina Island made famous pottery and tile that is prominently displayed in the Memorial
Mail Processing is also available to pickup, scan and digitize to the cloud. Call us today to learn more at Toll-Free: 800.332.3453