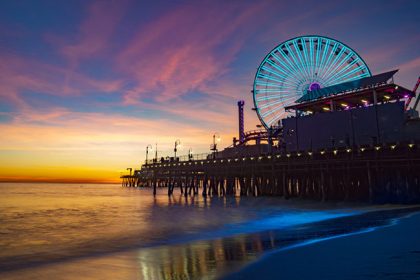 File Keepers is proud to provide Shredding, Document Storage, Document Scanning, Inbound Mail Processing, and Electronic Content Management [ECM] services throughout Los Angeles County, including to Santa Monica. This makes us a convenient source for all of your Digital Transformation service needs. Our extensive fleet of trucks is ready to pick up your shredding – we can even do onsite shredding, and or we can bring back your records, documents, CDs, hard drives, and x-rays for secure destruction in our certified facilities. We can even provide Certificates of Destruction or provide witnessed destruction. All shredded paper documents are processed into post-consumer fiber to maximize our environmental impact. Our offsite document storage capabilities are second to none. You can archive records, request file retrieval, and we even have climate-controlled storage areas to help you preserve vital records. We can also scan selected documents on demand, or perform high volume document imaging service through our state-of-the-art scanning bureau to convert entire cabinets and storage rooms of documents into searchable electronic images. We can scan any documents, from books and magazines, to large-format blueprints and maps, all the way down to century-old onionskin archives. Our ECM department uses Laserfiche software to create a secure repository for all of your organization's information. We can create e-forms and automated workflows to help you go paperless while we automatically name and organize your folder structure and build granular access and security levels for all your users. Finally, we can handle all of your inbound mail processing needs by creating a Digital Mailroom – we can receive, sort, scan, and securely distribute your mail so that you get all of your critical information in a timely fashion, even if your employees are working remotely.
Santa Monica is a beachfront city in Los Angeles County, California. There are five different neighborhoods of Los Angeles surrounding Santa Monica Bay: Pacific Palisades to the north, Brentwood to the northeast, West Los Angeles to the east, Mar Vista to the southeast, and Venice to the south. Santa Monica's population was 93,076 at the 2020 Census. In the early 20th century, Santa Monica's climate and proximity to Los Angeles led to it becoming a famed resort town, and celebrities like Marion Davies built beautiful beachfront homes along Pacific Coast Highway (PCH).
Since the late 1980s, the city has seen rapid growth through revitalization of its downtown core, significant job growth, and increased tourism. Pacific Park on the Santa Monica Pier and Palisades Park above the Pacific Ocean are popular tourist attractions.
Many notable companies have their headquarters in Santa Monica, including Beachbody, Fatburger, Hulu, Illumination, Otter Media, Lionsgate Films, Macerich, Miramax, RAND Corporation, Saban Capital Group, The Recording Academy (which presents the annual Grammy Awards), TOMS Shoes, and Universal Music Group. The Santa Monica Airport is home to Atlantic Aviation. Santa Monica College is home to KCRW, a National Public Radio member station. VCA Animal Hospitals is situated just outside of the city limits.
Santa Monica is home to several game development studios, making it a major center for the industry. These studios include:
The Activision Blizzard company (which includes Activision)
Cloud Imperium Games (Creators of Star Citizen)
Naughty Dog (Creators of Crash Bandicoot (1996–1999), Jak & Daxter, Uncharted and The Last of Us franchises)
PUBG Corporation (North American station, developed Miramar map in PUBG)
Riot Games, the creator of League of Legends, is just outside the eastern city limit.
Santa Monica has become the center of the Los Angeles region called Silicon Beach, which is home to hundreds of start-ups funded by venture capital.
Downtown Santa Monica, Montana Avenue on the north side, and Main Street on the south are the three main shopping districts in Santa Monica. They are all distinctive in their own way. A stretch of Montana Avenue is known for its boutique shops, restaurants, and small offices that usually feature upscale shopping. A diverse mix of clothing stores, restaurants, and other specialty retailers are found on Main Street.
Mail Processing is also available to pickup, scan and digitize to the cloud. Call us today to learn more at Toll-Free: 800.332.3453