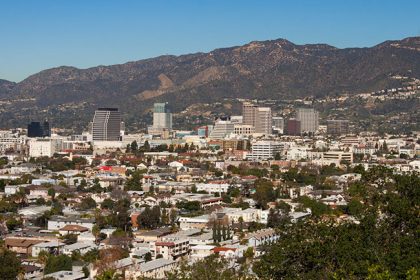 File Keepers is proud to provide Shredding, Document Storage, Document Scanning, Inbound Mail Processing, and Electronic Content Management [ECM] services throughout Los Angeles County, including to Glendale. This makes us a convenient source for all of your Digital Transformation service needs. Our extensive fleet of trucks is ready to pick up your shredding – we can even do onsite shredding, and or we can bring back your records, documents, CDs, hard drives, and x-rays for secure destruction in our certified facilities. We can even provide Certificates of Destruction or provide witnessed destruction. All shredded paper documents are processed into post-consumer fiber to maximize our environmental impact. Our offsite document storage capabilities are second to none. You can archive records, request file retrieval, and we even have climate-controlled storage areas to help you preserve vital records. We can also scan selected documents on demand, or perform high volume document imaging service through our state-of-the-art scanning bureau to convert entire cabinets and storage rooms of documents into searchable electronic images. We can scan any documents, from books and magazines, to large-format blueprints and maps, all the way down to century-old onionskin archives. Our ECM department uses Laserfiche software to create a secure repository for all of your organization's information. We can create e-forms and automated workflows to help you go paperless while we automatically name and organize your folder structure and build granular access and security levels for all your users. Finally, we can handle all of your inbound mail processing needs by creating a Digital Mailroom – we can receive, sort, scan, and securely distribute your mail so that you get all of your critical information in a timely fashion, even if your employees are working remotely.
Glendale is in Los Angeles County, near the San Fernando Valley and Verdugo Mountains. The city has a population of 196,543, up from 191,719 at the 2010 census, making it the fourth largest in Los Angeles County and the 24th-largest in California. The city is located about 16 kilometers north of downtown Los Angeles.
Glendale is in the Verdugo Mountains, and part of the Los Angeles metro area. To the northwest of the city, there is the neighboring neighborhoods of Sun Valley and Tujunga; to the northeast, there is La Canada Flintridge and La Crescenta, to the west, there is Burbank and Griffith Park; to the east, there is Eagle Rock and Pasadena; to the south, there is the Atwater Village neighborhood of Los Angeles; and to the southeast, there is Glassell Park. The Golden State, Ventura, Glendale, and Foothill freeways pass through this city.
Glendale has one of the largest Armenian communities in the United States.
Armenians have been living in the city since the 1920s, but the number of immigrants increased in the 1970s. Armenian Americans are well represented within the city, with many Armenian businesses, Armenian schools, and Armenian cultural organizations. Glendale is home to a large Armenian population that arrived in the last two decades. One of the largest Armenian communities outside of Armenia lives in Glendale.
Developed in 1923, Glendale's Grand Central Airport was the largest employer for many years and was crucial to the development of aviation in the United States. It includes both Art Deco and Spanish-style architectural elements. In addition to being the first official terminal in Los Angeles, Charles Lindbergh's first commercial west-to-east transcontinental flight took off from the facility. The Grand Central Air Terminal building was camouflaged in World War II to shield it from enemy fire. The Grand Central Business Centre, an industrial park, was built in its place in 1959.
Located in Tropico (later annexed to Glendale), Forest Lawn Memorial Park opened in 1906. The cemetery is known for its art collection and burials of many celebrities, as well as for opening the first funeral home on cemetery grounds in the United States in 1933. At the Glendale Public Library on Harvard Street is the Special Collections department, where original documents and records document a great deal of Glendale's history. There are more than 20,000 books on cats in the library, one of the largest collections in the world. The Jewel City Cat Fanciers Club donated it to the library in the 1950s.
By the 1970s, the city had undergone significant development, with the completion of the Glendale Freeway (Highway 2) and the Ventura Freeway (Highway 134). Among these were redevelopment of Brand Boulevard, renovation of the 1925 Alex Theatre, and construction of the Glendale Galleria shopping mall, which opened in 1976, and was expanded in 1982.
Mail Processing is also available to pickup, scan and digitize to the cloud. Call us today to learn more at Toll-Free: 800.332.3453