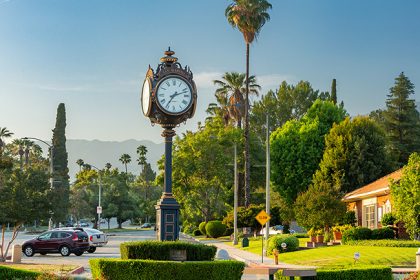 File Keepers is proud to provide Shredding, Document Storage, Document Scanning, Inbound Mail Processing, and Electronic Content Management [ECM] services throughout Los Angeles County, including to San Marino. This makes us a convenient source for all of your Digital Transformation service needs. Our extensive fleet of trucks is ready to pick up your shredding – we can even do onsite shredding, and or we can bring back your records, documents, CDs, hard drives, and x-rays for secure destruction in our certified facilities. We can even provide Certificates of Destruction or provide witnessed destruction. All shredded paper documents are processed into post-consumer fiber to maximize our environmental impact. Our offsite document storage capabilities are second to none. You can archive records, request file retrieval, and we even have climate-controlled storage areas to help you preserve vital records. We can also scan selected documents on demand, or perform high volume document imaging service through our state-of-the-art scanning bureau to convert entire cabinets and storage rooms of documents into searchable electronic images. We can scan any documents, from books and magazines, to large-format blueprints and maps, all the way down to century-old onionskin archives. Our ECM department uses Laserfiche software to create a secure repository for all of your organization's information. We can create e-forms and automated workflows to help you go paperless while we automatically name and organize your folder structure and build granular access and security levels for all your users. Finally, we can handle all of your inbound mail processing needs by creating a Digital Mailroom – we can receive, sort, scan, and securely distribute your mail so that you get all of your critical information in a timely fashion, even if your employees are working remotely.
Located in Los Angeles County, California, United States, San Marino is a residential city. A city corporation was formed in the city in 1913. According to the 2010 census, the population was 13,147. By extension, San Marino is one of the most expensive and exclusive neighborhoods in Los Angeles, with a median home price of $2,699,098, ranking among the richest places in the country in terms of household income.
There are three museums and a botanical garden in San Marino, including the Huntington Library, Art Museum, and Botanical Gardens. In 1919, Henry E. Huntington made his art collection, library containing rare books and historical documents, and botanical collection available to a limited number of visitors. There are 8 million manuscripts in the Huntington's library, 440,000 rare books, 454,000 reference books, 900,000 prints and ephemera, 777,000 photographs, and 300,000 digital files. More than 500 pieces of European and American art are displayed in Huntington's Neoclassical and Palladian mansion. A total of more than a dozen themed gardens are also located in the nearby botanical gardens, which span 120 acres. The institution is known collectively to the public as "The Huntington Library, Art Collections and Botanical Gardens," or simply "The Huntington."
About 1816, El Molino Viejo ("The Old Mill") was completed as a grist mill for Mission San Gabriel Arcángel in San Marino. Original measurements were 53 feet (16 meters) by 26 feet (7.9 meters). The building is the oldest commercial building in Southern California. Located on the former rancho lands of Rancho Huerta de Cuati, the town boasts a rich history.
Edwin Hubble lived in this spacious stucco home from 1925 to 1953, during which time he discovered extragalactic nebulae and demonstrated their separation from one another. The residence has been designated a National Historic Landmark.
San Marino Historical Society archives reside in the Michael White Adobe House on the high school campus.
The University of Southern California owns a house in San Marino in which its President resides. There have been several events held at the residence and on the grounds.
The Centennial Clock, located on the northeast corner of Huntington Drive and San Marino Avenue, was presented to the community by the Rotary Club of San Marino in 2005 to commemorate Rotary International's 100th anniversary. A 19-foot high clock including a time capsule containing artifacts donated by San Marino residents and organizations was dedicated on July 4, 2005. The time capsule will be opened on July 4, 2039, to mark the 100th anniversary of the Rotary Club of San Marino.
The city's local newspaper office is located on Huntington Drive, the city's most notable street. From 1929 until today, "The San Marino Tribune" has been the official newspaper. This weekly newspaper has two sections, an "A" section and a "B" section, the B section covering not only the news of San Marino but also Pasadena, San Gabriel, Alhambra, Arcadia and South Pasadena.
Mail Processing is also available to pickup, scan and digitize to the cloud. Call us today to learn more at Toll-Free: 800.332.3453