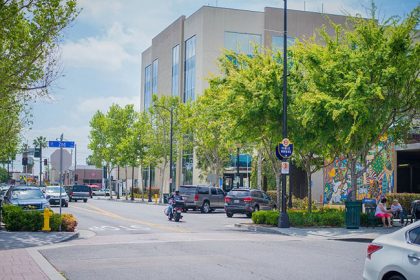 File Keepers is proud to provide Shredding, Document Storage, Document Scanning, Inbound Mail Processing, and Electronic Content Management [ECM] services throughout Los Angeles County, including to Downey. This makes us a convenient source for all of your Digital Transformation service needs. Our extensive fleet of trucks is ready to pick up your shredding – we can even do onsite shredding, and or we can bring back your records, documents, CDs, hard drives, and x-rays for secure destruction in our certified facilities. We can even provide Certificates of Destruction or provide witnessed destruction. All shredded paper documents are processed into post-consumer fiber to maximize our environmental impact. Our offsite document storage capabilities are second to none. You can archive records, request file retrieval, and we even have climate-controlled storage areas to help you preserve vital records. We can also scan selected documents on demand, or perform high volume document imaging service through our state-of-the-art scanning bureau to convert entire cabinets and storage rooms of documents into searchable electronic images. We can scan any documents, from books and magazines, to large-format blueprints and maps, all the way down to century-old onionskin archives. Our ECM department uses Laserfiche software to create a secure repository for all of your organization's information. We can create e-forms and automated workflows to help you go paperless while we automatically name and organize your folder structure and build granular access and security levels for all your users. Finally, we can handle all of your inbound mail processing needs by creating a Digital Mailroom – we can receive, sort, scan, and securely distribute your mail so that you get all of your critical information in a timely fashion, even if your employees are working remotely.
Downey is a city in southeast Los Angeles County, California, located 21 kilometers southeast of downtown Los Angeles. It is one of the Gateway Cities. It is the birthplace of the Apollo space program. The McDonald's restaurant there is also the world's oldest operating one. According to the 2010 census, the city had a total population of 111,779
In a survey of cities with a population of at least 68,000, Downey was named Los Angeles County's "Most Business-Friendly City" by the Los Angeles County Economic Development Corporation.
The largest employer in Downey during World War II was Vultee Aircraft, which produced 15% of all American military aircraft by 1941. A pioneer of using women in manufacturing roles, the company was the first to build airplanes on a powered assembly line. As a part of North American Aviation (later North American Rockwell, then Rockwell International, which was later acquired by Boeing), Vultee developed the systems for the Apollo Space Program and the Space Shuttle. The Rockwell NASA plant in Downey produced many of the greatest aviation, missile, and space projects of the 20th century.
In the early 1970s, these facilities occupied more than 200 acres (81 ha) of enclosed space spanning some 1,700,000 square feet. Downey, however, was severely affected by defense budget cuts in the 1990s. By 1992, Rockwell International had fewer than 5,000 workers, compared to once having more than 30,000. In 1999, the Rockwell plant in Downey closed after 70 years of producing airplanes and space vehicles. As a result of the demolition of the former North American Rockwell plant, the site is now home to the Columbia Memorial Space Center, Downey Landing shopping center, Promenade at Downey shopping center, Kaiser Permanente hospital, and city recreation fields park.
The intersection of Lakewood Boulevard (State Route 19) and Firestone Boulevard (former State Route 42) was in the 1960s one of the busiest intersections in California. Between Pasadena and the port at Long Beach, Route 19 ran along a major thoroughfare, while Route 42 ran along part of the old Spanish El Camino Real trail connecting Pueblo de Los Angeles with San Diego.
During the 1960s, Downey Records became popular for recording the surfing instrumental "Pipeline" of The Chantays; two decades later, Downey's music scene brought forth The Blasters and Dark Angel.
The Rancho Los Amigos National Rehabilitation Center is in Downey, which is the primary public rehabilitation hospital in Los Angeles County. Rancho Los Amigos is internationally renowned for its contributions to the treatment of post-polio syndrome and spinal cord injuries.
Downey starred in the 2008 American action-comedy Pineapple Express. In one of the opening scenes of the film, many of the buildings along Florence Avenue can be seen from the road.
Mail Processing is also available to pickup, scan and digitize to the cloud. Call us today to learn more at Toll-Free: 800.332.3453