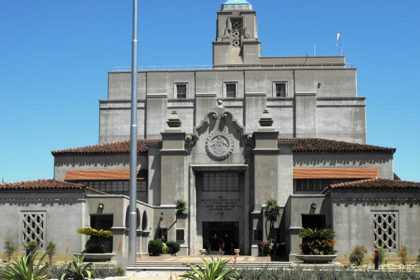 File Keepers is proud to provide Shredding, Document Storage, Document Scanning, Inbound Mail Processing, and Electronic Content Management [ECM] services throughout Los Angeles County, including to La Verne. This makes us a convenient source for all of your Digital Transformation service needs. Our extensive fleet of trucks is ready to pick up your shredding – we can even do onsite shredding, and or we can bring back your records, documents, CDs, hard drives, and x-rays for secure destruction in our certified facilities. We can even provide Certificates of Destruction or provide witnessed destruction. All shredded paper documents are processed into post-consumer fiber to maximize our environmental impact. Our offsite document storage capabilities are second to none. You can archive records, request file retrieval, and we even have climate-controlled storage areas to help you preserve vital records. We can also scan selected documents on demand, or perform high volume document imaging service through our state-of-the-art scanning bureau to convert entire cabinets and storage rooms of documents into searchable electronic images. We can scan any documents, from books and magazines, to large-format blueprints and maps, all the way down to century-old onionskin archives. Our ECM department uses Laserfiche software to create a secure repository for all of your organization's information. We can create e-forms and automated workflows to help you go paperless while we automatically name and organize your folder structure and build granular access and security levels for all your users. Finally, we can handle all of your inbound mail processing needs by creating a Digital Mailroom – we can receive, sort, scan, and securely distribute your mail so that you get all of your critical information in a timely fashion, even if your employees are working remotely.
The city of La Verne is located in Los Angeles County, California, United States. According to the 2010 census, the city's population was 31,063 compared with 31,638 at the 2000 census.
Located in the San Gabriel Valley, below the foothills of the San Gabriel Mountains, La Verne is a suburb 30 miles (48 km) east of Los Angeles. The city has a total area of 8.562 square miles (22.18 km2), according to the United States Census Bureau. The city is located east of San Dimas and west of Claremont. It is situated south of Pomona. La Verne is bisected by California State Route 210 in an east-west direction, and Historic U.S. Route 66 also runs through the city.
On climate maps, La Verne is shown as having a warm-summer Mediterranean climate, abbreviated "Csb".
Spanish settlers first settled in the area in the 1830s when Governor Juan Bautista Alvarado granted the 15,000-acre (61 km2) Rancho San Jose land grant to Ygnacio Palomares and Ricardo Véjar in 1837. Among the land were the present-day cities Pomona, Claremont, San Dimas, Glendora, and La Verne. Palomares built an adobe which still stands in Pomona as the First House of Rancho San Jose. After moving a mile or so northeast, Palomares constructed the Ygnacio Palomares Adobe. He secured a tract of land a mile west for his nephew Jose Dolores Palomares.
A tract of Jose Palomares' land was purchased by Isaac Lord in the mid-1880s, and he convinced the Santa Fe Railroad to extend its line across towards Los Angeles. Having surveyed the land for building lots, Lord had a large land sale in 1887, naming the new town 'Lordsburg' after himself. A large Lordsburg hotel was also built by him during the land boom, but the boom had ended by the time the hotel was completed. After it sat empty for several years, it was purchased by four German Baptist Brethren who convinced other members of that denomination it would make a great place for a university. This led to Lordsburg College being founded in 1891.
During the summer, residents planted citrus trees, which flourished. The town was incorporated as La Verne in 1906. In the early 20th century, Lordsburg became known as the "Heart of the Orange Empire." La Verne, however, thrived as a center of the citrus industry until the citrus industry gradually declined after World War II. Two of the last orange groves are now on the grounds of the La Verne Mansion and Heritage Park.
Mail Processing is also available to pickup, scan and digitize to the cloud. Call us today to learn more at Toll-Free: 800.332.3453