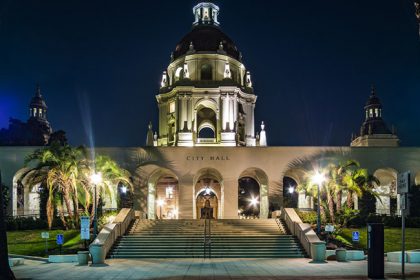 File Keepers is proud to provide Shredding, Document Storage, Document Scanning, Inbound Mail Processing, and Electronic Content Management [ECM] services throughout Los Angeles County, including to Pasadena. This makes us a convenient source for all of your Digital Transformation service needs. Our extensive fleet of trucks is ready to pick up your shredding – we can even do onsite shredding, and or we can bring back your records, documents, CDs, hard drives, and x-rays for secure destruction in our certified facilities. We can even provide Certificates of Destruction or provide witnessed destruction. All shredded paper documents are processed into post-consumer fiber to maximize our environmental impact. Our offsite document storage capabilities are second to none. You can archive records, request file retrieval, and we even have climate-controlled storage areas to help you preserve vital records. We can also scan selected documents on demand, or perform high volume document imaging service through our state-of-the-art scanning bureau to convert entire cabinets and storage rooms of documents into searchable electronic images. We can scan any documents, from books and magazines, to large-format blueprints and maps, all the way down to century-old onionskin archives. Our ECM department uses Laserfiche software to create a secure repository for all of your organization's information. We can create e-forms and automated workflows to help you go paperless while we automatically name and organize your folder structure and build granular access and security levels for all your users. Finally, we can handle all of your inbound mail processing needs by creating a Digital Mailroom – we can receive, sort, scan, and securely distribute your mail so that you get all of your critical information in a timely fashion, even if your employees are working remotely.
Pasadena is in Los Angeles County, California, about 11 miles (18 kilometers) northeast of downtown Los Angeles. The city is the largest and the primary cultural center of the San Gabriel Valley. Old Pasadena is the original business district of the city.
As of the 2020 census, its population was 138,699. This makes it the 44th most populous city in California, as well as the ninth largest city in Los Angeles County. Incorporated on June 19, 1886, Pasadena was the second city in Los Angeles County to be incorporated after Los Angeles (April 4, 1850).
A major draw to Pasadena is the Rose Bowl football game and Tournament of Roses parade. There are also many scientific, educational, and cultural institutions in the area, such as Caltech, Pasadena City College, Fuller Theological Seminary, ArtCenter College of Design, Pasadena Playhouse, the Ambassador Auditorium, and the USC Pacific Asia Museum, with the Jet Propulsion Laboratory nearby in La Ca*ada Flintridge.
Downtown Pasadena spans 21 blocks. The district has a wide variety of restaurants, nightclubs, outdoor cafés, pubs, and comedy clubs. Retail stores and restaurants have been attracted to "One Colorado" because of its renovated historic architecture. As a result of this construction, empty buildings were filled and Old Town was revitalized on Colorado Boulevard.  The Paseo Colorado shopping mall is designed to be a modern urban village. The three-block long Paseo Colorado is anchored on one end by an upscale grocery store (recently shuttered) and on the other by Macy's (also closed). Arclight Cinemas sits in the middle. The South Lake Avenue neighborhood is also a popular shopping destination. Macy's department store and furniture gallery are in a registered California historical landmark on Lake Avenue. Built in the mid-1950s, the building was originally intended to be the fourth Bullock's department store (their last freestanding store).
In the early twentieth century, Pasadena was home to artists of national renown, including Guy Rose, Alson S. Clark, Marion Wachtel, and Ernest A. Batchelder of the Arts and Crafts Movement. By establishing the California Art Club, Stickney Memorial Art School (later known as Pasadena Arts Institute), and the Pasadena Society of Artists, the city became a regional center for the visual arts.
The city of Pasadena has a large population of naturalized parrots. The Los Angeles Parrot Project estimates that there are six species of parrots in Los Angeles. Although some residents consider the birds to be an integral part of the city's culture, others consider them to be loud pests. The origins of the parrots in Pasadena are the subject of several theories. Generally accepted wisdom states that they were among the animals set free from the large pet emporium at Simpson's Garden Town on East Colorado Boulevard, which burned in 1959.
Mail Processing is also available to pickup, scan and digitize to the cloud. Call us today to learn more at Toll-Free: 800.332.3453