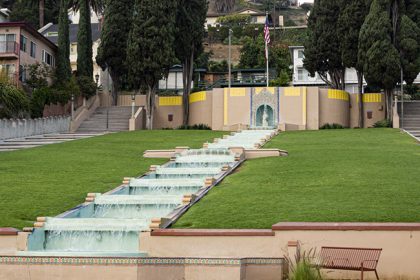 File Keepers is proud to provide Shredding, Document Storage, Document Scanning, Inbound Mail Processing, and Electronic Content Management [ECM] services throughout Los Angeles County, including to Monterey Park. This makes us a convenient source for all of your Digital Transformation service needs. Our extensive fleet of trucks is ready to pick up your shredding – we can even do onsite shredding, and or we can bring back your records, documents, CDs, hard drives, and x-rays for secure destruction in our certified facilities. We can even provide Certificates of Destruction or provide witnessed destruction. All shredded paper documents are processed into post-consumer fiber to maximize our environmental impact. Our offsite document storage capabilities are second to none. You can archive records, request file retrieval, and we even have climate-controlled storage areas to help you preserve vital records. We can also scan selected documents on demand, or perform high volume document imaging service through our state-of-the-art scanning bureau to convert entire cabinets and storage rooms of documents into searchable electronic images. We can scan any documents, from books and magazines, to large-format blueprints and maps, all the way down to century-old onionskin archives. Our ECM department uses Laserfiche software to create a secure repository for all of your organization's information. We can create e-forms and automated workflows to help you go paperless while we automatically name and organize your folder structure and build granular access and security levels for all your users. Finally, we can handle all of your inbound mail processing needs by creating a Digital Mailroom – we can receive, sort, scan, and securely distribute your mail so that you get all of your critical information in a timely fashion, even if your employees are working remotely.
Monterey Park is a city in Los Angeles County, California's San Gabriel Valley in the Los Angeles metropolitan area in the United States, located approximately seven miles (11 km) from downtown Los Angeles. "Pride in the past, Faith in the future" is the motto of the city. There is a growing Asian American population in the west San Gabriel Valley, including Monterey Park and Alhambra, Arcadia, Temple City, Rosemead, San Marino, and San Gabriel. In 2010, the city had a population of 60,269, based on the 2010 Census. A good school system, strong economy, and its central location have steadily made Monterey Park one of the best places to live in the United States. Located in the heart of Los Angeles, Monterey Park shares its borders with Alhambra, Los Angeles, Montebello, and Rosemead.
Downtown Monterey Park is the most populated Chinese-dominated business district, located near the intersection of Garfield Avenue and Garvey Avenue. When the Lincoln Plaza Hotel was built in the mid-1980s, it was built to serve primarily tourists from Taiwan and Hong Kong. The Monterey Park district consists of several fusion cafes with a Hong Kong influence; there are also several Cantonese seafood restaurants, as well as restaurants that serve Mainland Chinese food. The city is filled with great restaurants of all kinds of cuisines.
Garvey Ranch Observatory, which is located in Garvey Ranch Park, is operated by the Los Angeles Astronomical Society (LAAS), and is one of the major attractions of Monterey Park. As part of the complex, there is a historical museum, a classroom, and a workshop. The observatory is equipped with an 8-inch (200 mm) refractor, a telescope-making workshop, and a library that consists of over 1000 books. Every Wednesday evening from 7:30PM – 10:00PM, LAAS members host a free astronomical observation on the grounds. The public is welcome to attend the event.
The East Los Angeles College is located on the southern edge of Los Angeles. In recent years, the college has undergone significant renovations.
The 1929-built Jardin El Encanto, otherwise called "El Encanto", can be found at 700 El Mercado. This building, which once served as a USO center and speakeasy, was originally the sales office for Midwick Estates. In order to rehabilitate this historic building of great cultural value to the community, the City invested heavily in its renovation.
The Long Beach Freeway (I-710), the San Bernardino Freeway (I-10), and the Pomona Freeway, SR 60, are all within easy access to Monterey Park.
Mail Processing is also available to pickup, scan and digitize to the cloud. Call us today to learn more at Toll-Free: 800.332.3453