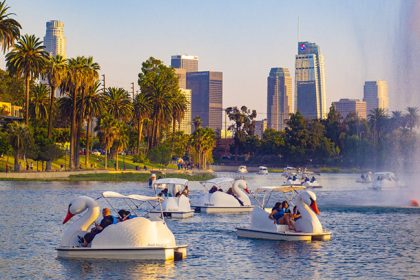 File Keepers is proud to provide Shredding, Document Storage, Document Scanning, Inbound Mail Processing, and Electronic Content Management [ECM] services throughout Los Angeles County, including to Los Angeles. This makes us a convenient source for all of your Digital Transformation service needs. Our extensive fleet of trucks is ready to pick up your shredding – we can even do onsite shredding, and or we can bring back your records, documents, CDs, hard drives, and x-rays for secure destruction in our certified facilities. We can even provide Certificates of Destruction or provide witnessed destruction. All shredded paper documents are processed into post-consumer fiber to maximize our environmental impact. Our offsite document storage capabilities are second to none. You can archive records, request file retrieval, and we even have climate-controlled storage areas to help you preserve vital records. We can also scan selected documents on demand, or perform high volume document imaging service through our state-of-the-art scanning bureau to convert entire cabinets and storage rooms of documents into searchable electronic images. We can scan any documents, from books and magazines, to large-format blueprints and maps, all the way down to century-old onionskin archives. Our ECM department uses Laserfiche software to create a secure repository for all of your organization's information. We can create e-forms and automated workflows to help you go paperless while we automatically name and organize your folder structure and build granular access and security levels for all your users. Finally, we can handle all of your inbound mail processing needs by creating a Digital Mailroom – we can receive, sort, scan, and securely distribute your mail so that you get all of your critical information in a timely fashion, even if your employees are working remotely.
Los Angeles, also known as L.A., is California's largest city. As of 2020, it has a population of 3,898,747, making it the second-largest city in the country. Los Angeles is renowned for its Mediterranean climate, ethnic diversity, Hollywood film industry, and sprawling metropolitan area.
Los Angeles lies in the Southern California basin. It stretches from the Pacific Ocean through the Santa Monica Mountains to the San Fernando Valley and covers about 469 square miles (1,210 km2). It is in Los Angeles County, which is the most populous county in the United States with just under 10 million people in 2020.
In addition to its diverse and vibrant economy, Los Angeles hosts businesses of all kinds. The port of Los Angeles is also the busiest container port in the Americas. Los Angeles had a gross metropolitan product of over $1.0 trillion in 2018, which made it the world's third-largest city, after Tokyo and New York City. The Summer Olympics will be held in Los Angeles in 2028, as was the case in 1932 and 1984.
Tourism, international trade, motion pictures, video games, music recording, and television are the main economic drivers of Los Angeles. Other sectors include aerospace, technology, petroleum, fashion, and apparel. There are also significant industries in finance, telecommunications, law, healthcare, and transportation. The 2017 Global Financial Centres Index ranked Los Angeles as the 19th most competitive financial center in the world, and the sixth most competitive in the US (after New York City, Boston, Chicago, Washington, D.C., and San Francisco).
As part of Southern California's "Thirty-Mile Zone" of entertainment headquarters, Paramount Pictures is located within the city limits, making it one of the five biggest film studios in the country.
Los Angeles is one of the nation's largest manufacturing centers. The contiguous ports of LA and Long Beach together are the busiest ports in the United States and the fifth busiest in the world, essential for trade within the Western Pacific
The Los Angeles metropolitan area has a gross metropolitan product of over $1.0 trillion (as of 2018), making it the third-largest economic metropolitan area in the world after Tokyo and New York. Los Angeles is the third-largest economic metropolitan area in the world after Tokyo and New York with a gross metropolitan product of over $1 trillion (as of 2018) According to a study conducted by Loughborough University in 2012, Los Angeles is an "alpha world city."
At the end of 2018, Los Angeles was home to three Fortune 500 companies: AECOM, CBRE Group, and Reliance Steel & Aluminium.
Mail Processing is also available to pickup, scan and digitize to the cloud. Call us today to learn more at Toll-Free: 800.332.3453