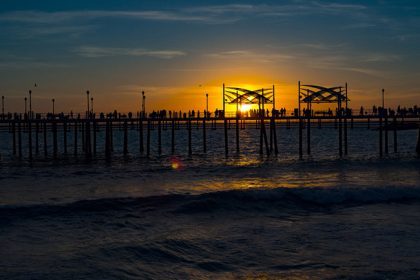 File Keepers is proud to provide Shredding, Document Storage, Document Scanning, Inbound Mail Processing, and Electronic Content Management [ECM] services throughout Los Angeles County, including to Redondo Beach. This makes us a convenient source for all of your Digital Transformation service needs. Our extensive fleet of trucks is ready to pick up your shredding – we can even do onsite shredding, and or we can bring back your records, documents, CDs, hard drives, and x-rays for secure destruction in our certified facilities. We can even provide Certificates of Destruction or provide witnessed destruction. All shredded paper documents are processed into post-consumer fiber to maximize our environmental impact. Our offsite document storage capabilities are second to none. You can archive records, request file retrieval, and we even have climate-controlled storage areas to help you preserve vital records. We can also scan selected documents on demand, or perform high volume document imaging service through our state-of-the-art scanning bureau to convert entire cabinets and storage rooms of documents into searchable electronic images. We can scan any documents, from books and magazines, to large-format blueprints and maps, all the way down to century-old onionskin archives. Our ECM department uses Laserfiche software to create a secure repository for all of your organization's information. We can create e-forms and automated workflows to help you go paperless while we automatically name and organize your folder structure and build granular access and security levels for all your users. Finally, we can handle all of your inbound mail processing needs by creating a Digital Mailroom – we can receive, sort, scan, and securely distribute your mail so that you get all of your critical information in a timely fashion, even if your employees are working remotely.
Located in the South Bay region of the Greater Los Angeles area, Redondo Beach is a coastal city in Los Angeles County, California, United States. The beach city is one of three that line the southern portion of the Santa Monica Bay. In the 2020 census, the population increased from 66,748 in the 2010 census to 71,576.
South Redondo was a part of Rancho San Pedro, a Spanish land grant from 1785. Tourists and sports enthusiasts enjoy the Municipal Pier and sandy beach, which is popular with tourists. The Metro Rail C Line (formerly the Green Line) has its western terminus in North Redondo Beach.
A large part of Redondo Beach's lifestyle is a fusion of the three Beach Cities of Southern California's South Bay. Redondo is a coastal city whose appeal is similar to those of Hermosa Beach and Manhattan Beach. Los Angeles Daily Herald referred to Redondo as "The Gem of the Continent" in 1887.
Starting below the bluffs of Palos Verdes in the south (after Torrance Beach), the beach stretches to the north and ends at Redondo Pier. It is known as the RAT Beach (Right After Torrance) and runs from South Redondo to Hermosa, Manhattan Beach, and ultimately Santa Monica along the Marvin Braude Bike Trail. In Hermosa Beach the path veers away from the water and onto dedicated lanes of surface streets for about a mile before returning to the ocean again. After passing Manhattan Beach, the path extends to Marina Del Rey.
In the South Bay, surfing is an integral part of the year-round lifestyle. The Pacific Ocean's winter storms occasionally create large and sometimes dangerous waves in the South Bay, a popular surfing spot. Some of the highest waves ever recorded were smashed in December 2005, reaching heights of 15 feet (4.6 m) to 20 feet (6.1 m).
Redondo Beach is also known for beach volleyball. Several professional tennis tournaments are organized by the AVP in the nearby cities of Hermosa Beach and Manhattan Beach. Among the Redondo Beach residents is one of the world's top surfers, Kaerri Walsh, as well as AVP Pro Casey Jennings.
Baywatch was filmed at Redondo Beach during the filming of the television series.
As the history of the Redondo Beach Police Department reveals, it was originally established in the 1920s. Currently there are 90 sworn members (officers) of the police department along with 57 non sworn members.
Mail Processing is also available to pickup, scan and digitize to the cloud. Call us today to learn more at Toll-Free: 800.332.3453